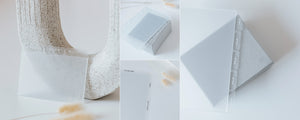 Divider tab names
Do you want to order a custom Divider Set, but you don't know how to name the divider tabs? 🗒🗂 Than this post is for you! I through about how I can help you with this and made a list of the most frequently used words, which I want to share with you:
PLAN, CALENDAR, AGENDA, TO DO, LISTS, NOTES, PERSONAL, INBOX, SCHEDULE, WORK, FINANCE, BUSINESS, PROJECTS, GIRLBOSS, GOALS, TRAVEL, HOME, HOMEBASE, MOOD, TRACKER, CLEANING, CONTACT, PRIORITY, IMPORTANT, URGENT, FITNESS, RECIPES, MISC, ROUTINE, SINKING FUNDS, ORDERS, HOBBIES, MEDICAL, SOMEDAY, MEALS, TENDING LIST, VISION, MIND, BODY, SPIRIT, OVERVIEW, FAMILY, SOCIAL, TRAVEL, HOME, HOMEBASE, REFERENCE, INCOME, EXPENSES, DEBT, BUDGET, WISHLIST, MEAL PLAN, OTHER, MEETING NOTES, MOMLIFE, CASHFLOW, HEALTH, GRATITUDE, BLUEPRINT, REMINDERS, ASAP, SPENDING
⠀⠀⠀⠀⠀⠀⠀⠀⠀
MONTH, WEEK, TODAY, YEARLY, FUTURE, MONTHLY, WEEKLY, ANNUAL
THIS WEEK, THIS MONTH
⠀⠀⠀⠀⠀⠀⠀⠀
HAZY DREAMS, GOAL DIGGER, MONEY TALK, CREATIVE BIZ, WRITE IT DOWN, HELLO TODAY, FOR THE RECORD, CURRENT PROJECTS, GET IT DONE, RANDOM SHIT, GET TROUGH IT, ACTION LISTS, LEVEL UP, FUTURE DREAMS, HAPPY READING, THE SCORECARD, BRAIN DUMP, DAY TO DAY, TODAY'S AGENDA, COLLECT IDEAS, FAMILY LIFE, DARE TO PLAN, SELF CARE, TODAY'S AGENDA, HAPPY MAIL,
⠀⠀⠀⠀⠀⠀⠀⠀⠀
N°01, N°02, N°03, N°04
JAN, FEB, MAR,
1, 2, 3, 4,
Q1, Q2, Q3, Q4

$$$⠀⠀⠀⠀⠀⠀⠀⠀⠀
⠀⠀⠀⠀⠀⠀⠀⠀⠀
Let me know if you like this post and find it helpful.
Do you have a beautiful tab name in mind, which is not in the list? Please share it with me!