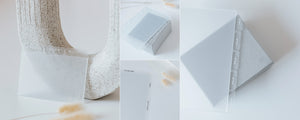 Creative Divider Tab Name Ideas for Your Custom Set
Are you in search of the perfect divider set but feeling unsure about what to name those tabs? Look no further! In this post, I've compiled an extensive list of commonly used words to inspire you in naming your divider tabs.
The Creative Catalog: Below, you'll find an array of words and phrases, ready to spark your imagination when customizing your divider tabs. Use these as a starting point, mix and match, or let them inspire you to create your unique tab names:
Category
Tab Ideas
Planning Essentials
Plan, Calendar, Agenda, To Do, Lists, Notes, Personal, Inbox, Schedule, Contact, Misc
Work and Business
Work, Finance, Business, Projects, Girlboss
Goal-Oriented
Goals, Tending List, Visionboard
Mood and Lifestyle
Mood, Tracker, Recipes, Social, Hobbies
Financial Planning
Sinking Funds, Orders, Income, Expenses, Debt, Budget, Wishlist, Spending, 

$$$

Wellness
Mind, Body, Spirit, Social, Health, Fitness, Gratitude
Travel and Home
Travel, Home, Homebase, Reference, Cleaning, Family, Medical, Meal Plan
Meetings and Notes
Meeting Notes, Blueprint, Reminders, ASAP, Priority, Important, Urgent, Reference, Other
Time Management
Month, Week, Today, Yearly, Future, Monthly, Weekly, Annual, This Week, This Month, Overview
Motivational and Unique
Hazy Dreams, Goal Digger, Money Talk, Creative Biz, Write It Down, Hello Today, For the Record, Current Projects, Get It Done, Random Shit, Get Through It, Action Lists, Level Up, Future Dreams, Happy Reading, The Scorecard, Brain Dump, Day to Day, Today's Agenda, Collect Ideas, Family Life, Dare to Plan, Self Care, Happy Mail, Momlife, Someday
Numerical Order
N°01, N°02, N°03, N°04
Months and Numbers
Jan, Feb, Mar, 1, 2, 3, 4
Quarterly
Q1, Q2, Q3, Q4
Project Planning
Project A, Project B, Project C

Feel free to let me know if you found this post helpful and if you have any creative tab names in mind that aren't on the list. I'd love to hear your suggestions!
Stay inspired, stay organized,
Olivia