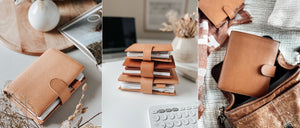 Finding the perfect Planner size for your needs
Planning can be an enjoyable journey, but selecting the right planner size can sometimes be a challenge.Your planner should help you stay organized, and to do that, it has to suit you perfectly. In this post, we are excited to assist you in your quest to discover the ideal planner size that aligns perfectly with your planning style.
 
Why Planner Size Matters:
The size of your planner is important for three reasons:
Comfort and Usability:

The right size ensures that your planner effortlessly integrates into your daily life. A planner that's too large may feel cumbersome, while one that's too small could limit your note-taking space. The perfect size increases the likelihood that you'll enjoy using it consistently.

Organization and Efficiency:

The right planner empowers you to stay organized and manage your tasks efficiently. With a size that suits your needs, you can systematically record your thoughts and appointments, enhancing your overall productivity.

Personal Expression:

Your planner is an extension of your creative self. The right size allows you to customize it to your personal preferences, making it not only a functional tool but also an expression of your individuality.




For the Creatives, needing plenty of space or with large handwriting:
A5: This size is perfect for meticulous planners who need ample space for extensive notes, sketches, and creative ideas. A5 is one of the most popular sizes.
Personal Wide (PW):

If your thoughts are detail-rich and you already admire the A5 size, you might fall in love with this size (we certainly have!). It offers room for extensive notes and creative ideas. You'll never worry about running out of space – it's like an A5 ring binder but lighter and more compact.

Franklin Covey Compact (FCC): This compact size provides enough space for structured planning. Ideal if you appreciate methodology and compactness.


Planner sizes for on-the-go and uncomplicated planning:
Personal: If your planner needs to be with you at all times,

whether at the office or on the move, the Personal size is your ideal choice. It's compact, fits in most bags, and is always ready for action. This size is also incredibly popular.

A6: Small and agile – always ready for your next adventure. The A6 size is ideal for travelers and those who prefer a compact planner but still want enough space for organizing.
Pocket Plus:

If you lean towards minimalism, the Pocket Plus size is your go-to option. It's compact yet functional, perfect for those who don't want to sacrifice much bag space but still seek efficient organization.

Pocket:

The epitome of compactness. The Pocket size is perfect for those who jot down minimal notes – it may be small, but it fits in small pockets.
Now you might be wondering, "Okay, that's all well and good, but how big are these inserts?" Please feel free to check out our Size Guide for illustrations and size details.
 
My ultimate tip: Try different sizes and inserts:
 here. This is a fantastic way to discover the size that best resonates with you before making a decision.
Remember, your planner should adapt to you, not the other way around. Find the size that perfectly complements your lifestyle, whether you're embracing creative chaos or minimalist organization.
In essence, planning should be a delightful and effective support system. We would love to hear from you in the comments about your journey in finding the perfect size and any challenges you've encountered along the way. Your experiences and insights are highly valued.
Stay inspired, stay organized,
Olivia